April's Breast Augmentation Experience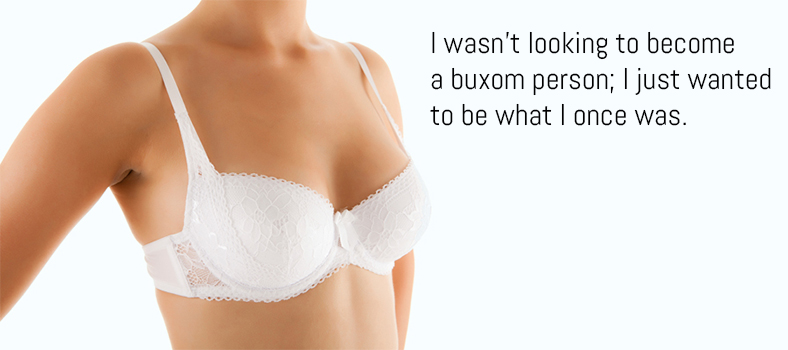 I have always been an athlete so my small B- /full A-cup breasts did not bother me. They fit me, my appearance, and my lifestyle. And I really appreciated my original size while I was nursing my kids and I swelled up to a small D. I decided that large breasts were not for me as I was uncomfortable with their weight and their appearance.
But then I stopped nursing, and after my second child, my breasts were no longer the small, yet properly formed and placed breasts they once were. They were pretty non-existent and not in the proper place. At first I could joke about it, but the more I lived with it, the more dissatisfied I became. I wasn't looking to become a buxom person; I just wanted to be what I once was. It was a surprising thought to me to consider plastic surgery as I was always one who believed you should be happy with what you have, and you shouldn't let your physicality determine your self-worth. And that's great, but when I wasn't comfortable letting my husband (who has been my partner for the last 17 years of my life) see me naked, that's a problem. It would not matter how much time I spent in the gym – getting my pre-nursing breasts back was not something I could do without surgery.
So I went to a consultation and spoke with some friends who had done the surgery as well; and I decided that I would do it. And I am extremely happy I did. No one can tell that I had anything done because they are incredibly natural looking, I just carry myself with more confidence now – particularly in a swimsuit and tank tops. I hated the fact that my post-baby belly stuck out further than my breasts, and now they no longer do. My belly is not as flat as it once was, but I feel more womanly now that the top of my body fits the lower part.
I have only positive things to say about my experience and am passing along Dr. Dembny's name to a friend because she is impressed with the overall positivity I've had from it too. I feel completely comfortable with my decision to go forth with the surgery and more comfortable in my body now because of it.
Contact us for more information, with your questions, or to schedule a consultation.